Philippo Flowers fulfills same-day deliveries despite 6x more orders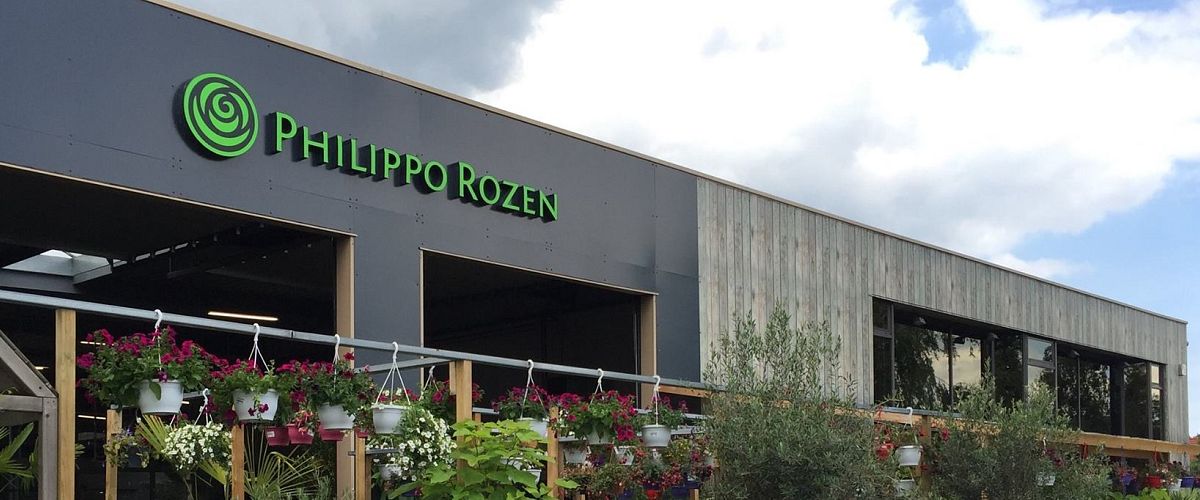 Because of the coronaciris the focus at Philippo Flowers went from retail to online sale, delivered at home. And with success. The number of orders increased sixfold and continues to grow. Manual planning was too time consuming and Philippo Flowers started looking for a tool to plan delivery routes in a user-friendly way and dispatch them to the drivers.
"Movetex planning software is user-friendly, saves us a lot of planning time and keeps our transport costs as low as possible."

- Jolien Dejongh, Operations Manager, Philippo Flowers
Home delivery as a new strategy
Philippo Flowers is a successful cut rose farm, a flower and plant center with a total area of 40,000 m². Until the first quarter of 2020 the company, with 4 branches in the province of Antwerp, was almost exclusively focused on retail. The webshop was already active but the number of deliveries was limited to 1 delivery route per day.
Until Covid-19 everything changed. All branches were forced to close down overnight, which caused an untenable situation. But combative entrepreneurs don't get stuck. According to Jolien Dejongh, operations manager, the company had to reinvent itself in a very short time. "Our core business was retail. But due to the unexpected closure, our turnover had almost completely collapsed. While the stores were closed, we put our heads together with our team. It was then that we decided to focus 100% on online sales". The Philippo Flowers stores were forced to close for 9 weeks. During this period the number of online sales and home deliveries went from 30 to 250 per week.
"Online sales and home delivery saved our company during the corona crisis. We believe 100% that this is also the future for our company."

Jolien Dejongh, Operations Manager, Philippo Flowers
Movetex planning software as a solution for the new planning challenges
The company has changed enormously in just a few months, says Jolien. Philippo Flowers offers free delivery in Belgium, the Netherlands, Luxembourg and Germany. "We guarantee our customers that we deliver their orders the same day if they are ordered before 8am. If we still have to plan the routes manually, we would lose far too much time and would not be able to keep our promise. Especially if you want to deliver within the customer's chosen time windows, it is a difficult and time consuming puzzle".
"In our search for a planning tool, it was important for us to find a partner that provides the necessary support, with a single point of contact."

- Jolien Dejongh, Operations Manager, Philippo Flowers
Planning efficient routes and managing drivers was new for Philippo Flowers. In the beginning they planned manually via Google Maps and afterwards with a free planning tool. Jolien says that this tool soon proved to be insufficient. "The number of addresses in these free tools is limited and the routes for the drivers are often inefficient. Wrong addresses are also not always recognized, which causes frustrations and bad routes".
Shortly after, they started looking for advanced planning software. "We were looking for a user-friendly tool with a good price/quality ratio that could take into account customer time windows. The routes had to be sent efficiently to an app for the drivers. We also wanted the necessary support and a single point of contact". In the end, Movetex was chosen. "It is a young company with which we immediately had a good feeling. They are very accessible and follow up quickly. The route planning software is user-friendly and meets our needs and requirements. Thanks to Movetex, there is much less time spent on planning and we are confident that we will keep transport costs as low as possible".
Ready for future growth
Since the stores are allowed to reopen, retail is again an important channel for Philippo Flowers. But, says Jolien, the webshop with home deliveries remains at least as important. Phlippo Flowers now delivers an average of 800 bouquets a month at home, which is on average six times more than before the corona crisis. "The crisis brought other opportunities and online sales saved our company. We believe 100% that this is the future and that the number of orders will continue to grow. We will put a lot of effort into this and build a new webshop and send automatic SMS notifications for the customers, which will also be possible with the planning software of Movetex".
The planning software can easily grow with the company if the number of home deliveries continues to increase. Or at peak moments, such as Mother's Day. "On Mother's Day, the most important day of the year for us, we planned more than 400 deliveries with twelve drivers. We used to make the planning on six computers at the same time and spend hours on the job. Now it's all a lot more efficient. And we didn't receive any complaints so the planning was very accurate and everything was delivered flawlessly".
This is how much Movetex saves for Philippo Flowers
| | | |
| --- | --- | --- |
| Hours of planning time and drive time | Kilometers | € |
| 78 | 910 | 2.496 |
Movetex is an IT company that develops planning software with one clear goal: optimization. Organize deliveries or appointments with our route planning software and reduce stressful planning time, reduce mileage and make customers happy.