Elektro Loeters uses Movetex to reduce transport costs and improve customer service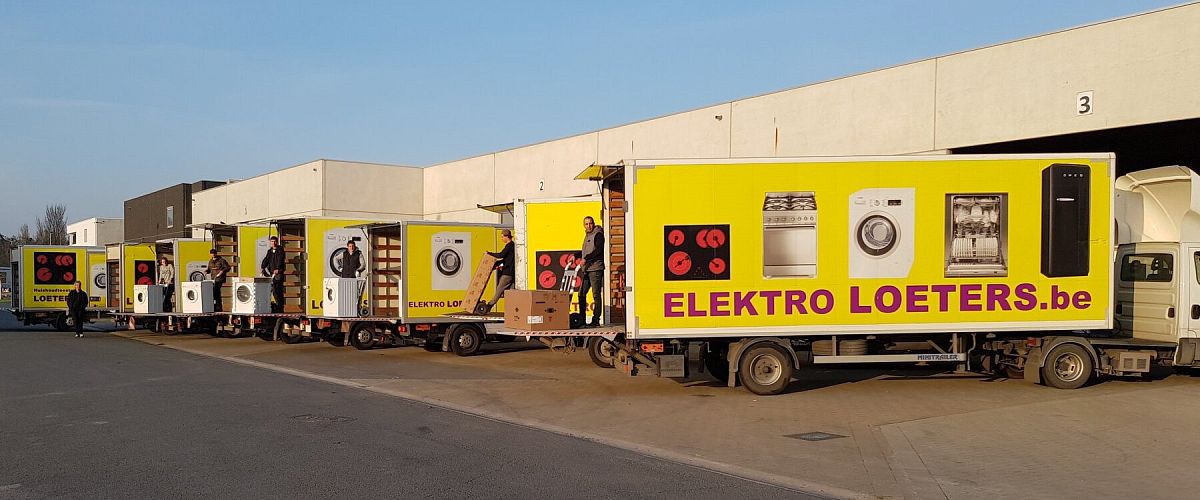 Elektro Loeters, a family-owned business from Ostend, has been active in the household appliances market for more than 40 years. It offers built-in appliances and electronics at the cheapest price. Luk Loeters, manager, clarifies the company's strategy: "Thanks to a gigantic stockroom, we can purchase larger quantities and ensure the best price–quality ratio. Because of this stock, our devices can be picked up or delivered immediately."
In addition to eight stores spread across Flanders, the company has a fast-growing online store. Home deliveries have been on the rise in recent years, and the COVID-19 crisis is making e-commerce boom even more, including for Elektro Loeters.
Efficient route planning is a first priority
"The number of deliveries doubled and increased the pressure on our own delivery and customer service," explains Luk . "We literally had one person in charge of planning and following up using Google Maps. It was a full-time job, and he did a great job, but at some point this became untenable."
The efficiency of the routes depended on the knowledge and skills of one person, and therefore on his availability. So Luk, together with his planner, started looking for a more efficient and scalable solution.
Google came in handy again, and that's where Luk found Movetex's planning software. "After an initial demo, we felt that the team at Movetex was thinking along with our company about our processes. They made sure we could get started with the software quickly. Everything was set up to suit our planning processes, and import files were adapted to our documents. We were allowed to test the software ourselves to see if it was suitable for our company, and we received the necessary support."
It was that first experience with the software that quickly won Elektro Loeters over.
"Given that we work B2C, our delivery addresses are different every day. Efficient route planning was a first priority for us. We were regularly confronted with errors in addresses entered in the web shop. The software checks the reliability and removes these errors quickly. We set up our vehicles and drivers and at the push of a button the software finds the best routes. It was quickly clear that this could save us a lot of time and kilometers," says Luk.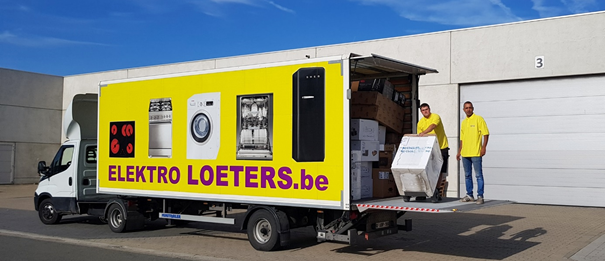 Experts are always within reach
There are numerous possibilities for software customization and optimization. Luk gets help from the Movetex team to get everything out of the software. "Gradually we discovered how flexible the software was. The team showed us how to deal with time windows or last-minute changes and how a fixed region could always be served by the same driver."
Route planning is crucial for a company with its own delivery service like Elektro Loeters. It should never become a bottleneck for further business operations. Luk is therefore very satisfied with the accessibility of the Movetex team. "Mail and phones are answered immediately, and they always take action. Even if we have no questions, they regularly check whether we are using all the possibilities of the software."
Automatic communication reduces incoming calls
Once the schedule for the next day is ready, all customers receive an automatic email. "We communicate where and the time window within which we will deliver the next day. We also give some instructions for when we have to take old appliances with us, for example. Because of these automatic emails , our customer service receives remarkably fewer incoming calls from customers with questions about the delivery."
"Thanks to Movetex planning software we have a system that supports the entire team."

- Luk Loeters, Manager, Elektro Loeters
Driver app provides proof of delivery
Every day, they dispatch routes to their drivers at Elektro Loeters. With Movetex's mobile app, the drivers navigate from drop to drop. For each delivery they can easily add comments and collect digital signatures and photos.
The planner can follow the progress of deliveries live and see if routes are delayed. Based on the driver's actions in the app, a document can immediately be downloaded with all relevant data as proof of delivery .
"The Movetex app makes field operations a lot more efficient for our drivers. Even in the event of a possible dispute, we now always have proof of delivery on hand. We no longer rely on one person to manage our deliveries, but now we have a system that supports the entire team. And that is our biggest advantage," concludes Luk.