Planning tools for field services
19-04-2023 readtime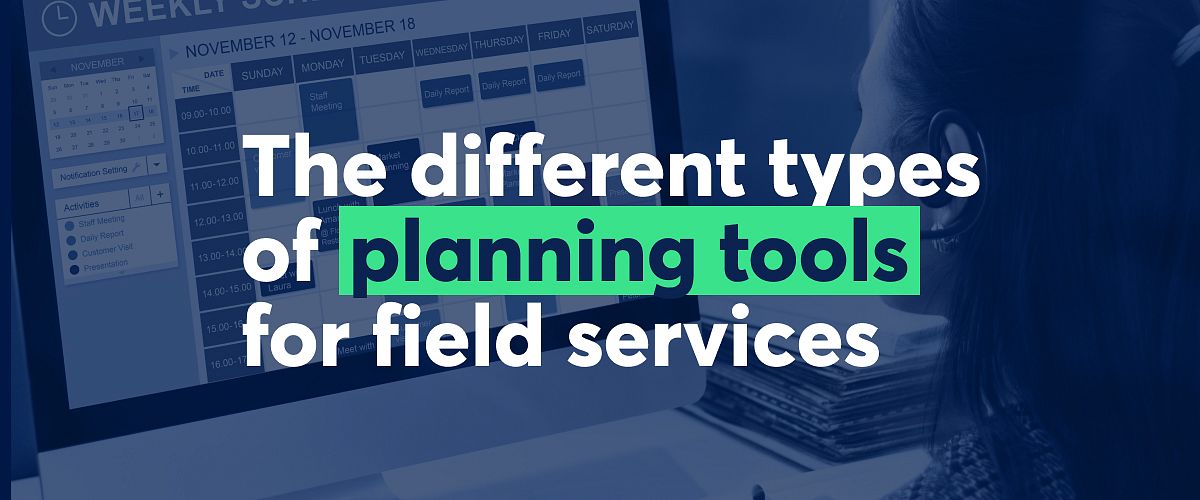 Efficient planning is crucial for businesses with a field service. Scheduling jobs, allocating resources, and optimizing routes can have a significant impact on field service productivity and customer satisfaction. In this article, we explore the different levels of planning tools, ranging from manual planning with calendar tools to advanced planning software.
Manual planning with calendar tools like Google Calendar and Outlook
Many companies start planning their field services using simple calendar tools such as Google Calendar or Outlook. About 80% of the field service companies we first speak to use such calendar tools for planning. These tools have some benefits, such as a user-friendly interface, relative affordability, and familiarity among employees.
These tools provide basic functionality for planning: you can quickly create blocks in the schedules of field workers and manually enter all the information about the tasks to be performed. As long as the number of field team members is limited, they also provide sufficient visibility.
However, despite these advantages, these calendar tools have limitations. They do not offer intelligence or support for task planning, so the planning remains manual.
ERP or CRM with built-in planning tool
Slightly larger companies often opt for an Enterprise Resource Planning (ERP) or Customer Relationship Management (CRM) software. Sometimes, these software solutions are specifically developed for a particular industry and offer a built-in planning tool for field services. These tools often include calendars with drag and drop functionality, allowing planners to assign tasks to the schedules of technicians or experts. The advantage here is that you start from a pool of tasks that still need to be scheduled.
Although this is a step forward compared to manual planning, it remains limited in terms of automation, support, or optimization. It lacks intelligent algorithms that consider various factors to maximize efficiency. The planner still needs to make the decision of which tasks to assign to a specific field service worker on which day and at which time.
Field Service Management (FSM) software with route optimization
Field Service Management (FSM) software is an advanced solution specifically designed for managing field service activities. It offers valuable features that support various business processes, such as contract management, digital work orders, and invoicing.
Planning is a crucial business process for such companies, and FSM packages also provide tools for it. The digital work orders can be scheduled in the technicians' agendas or timelines, providing an overview, and sometimes there is pre-filtering to schedule tasks only in the agendas of technicians with the right skills. The most comprehensive packages also offer route optimization, which arranges a technician's tasks for a specific day in the most efficient order.
Although this is a step forward in terms of efficiency, the optimization is limited as it occurs last-minute and only for one technician. Additionally, many appointments are already fixed, making optimization come too late. While pre-planning can be partially supported by smart filtering, it remains a manual process.
Advanced planning software
Advanced planning software focuses solely on optimizing schedules. It is often integrated as an intelligent component with other software such as ERP or FSM systems. When a task is ready to be scheduled, the work order is sent to the planning software where it can be scheduled as efficiently as possible.
This software utilizes intelligent algorithms and advanced techniques to continuously optimize the schedule based on various factors. It takes into account technicians' skills, working hours, requested time windows, and priorities. Distances are continuously optimized, not just last-minute. Tasks can be automatically scheduled, or planners can be supported with smart, best-fit suggestions.
This software ensures the most efficient planning at any point in the process, avoiding errors, reducing mileage and costs, and meeting customer requirements.
Conclusion
Planning and optimizing field services is a complex task for companies. From manual planning with simple calendar tools to advanced scheduling and planning software, the possibilities and efficiency increase as companies transition to more advanced tools.
The choice of tools that are sufficient for a company depends on the size of the field service, the complexity of the planning, and the dynamic nature of the scheduling.
By investing in advanced software solutions, companies can improve efficiency, better meet customer demands, and gain a competitive advantage in an increasingly demanding market.