De Lift is growing at a rapid pace and has more than 60 employees on the road daily
24-02-2023 6 min readtime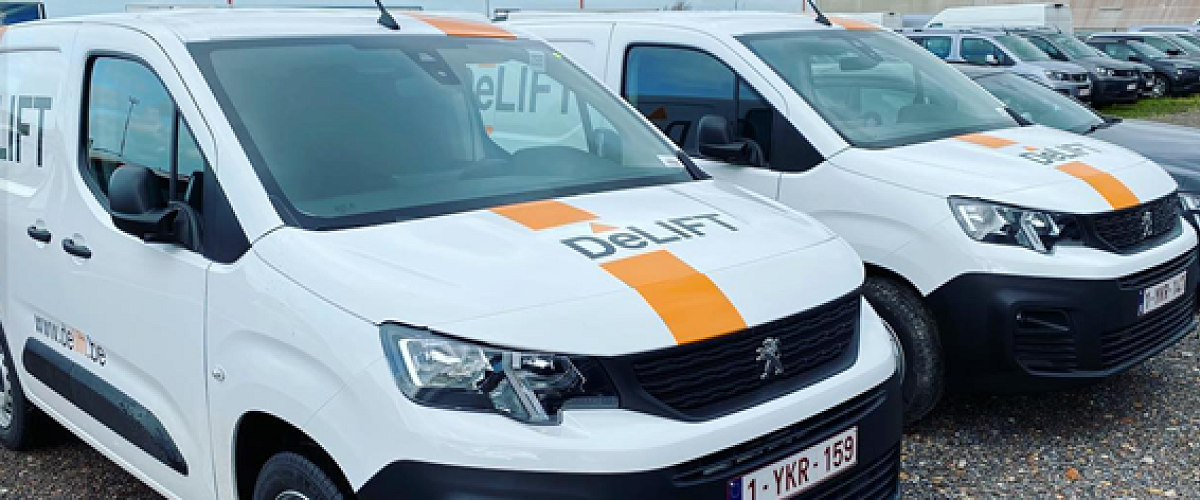 De Lift specializes in the maintenance, repair, and modernization of elevators. Over the past few years, things have been moving quickly for manager Arne Vandenberghe and his team.
Maintenance contracts are often very expensive, but the service customers receive in return is limited. The frustrations in the market are well known. That's where De Lift comes in . What is its mission? To offer the best service at a better price. And those are not empty words. They guarantee top service through accessible customer service, a large stock of spare parts, and effective communication with the customer.
It is a strategy that bears fruit. In five years, the workforce has grown from 15 to 90 employees, including more than 60 technicians who are on the road every day—phenomenal numbers! However, this brings with it major challenges, not least in terms of planning.
Planning challenge
There are several types of assignments. On average, an elevator needs maintenance four times a year, with at least two and no more than four months between maintenance. There are repairs that need to be scheduled, with or without high priority. When someone is trapped in an elevator, an immediately intervention must happen, regardless of the schedule for that day.
All these tasks must be added to the schedules of dozens of technicians with various skills. And, of course, absences must also be considered.
When Arne took over the company, the team had 15 employees, and maintenance planning was done using spreadsheets. Putting together the puzzle, and certainly the follow-up of this planning, was a gigantic task. The technicians received a personal list of tasks that had to be completed within a certain period of time, and they had to work their way through the list themselves. Because of continuous growth, this method of operation was no longer tenable, especially not if the company wanted to guarantee its high standard of service.
So De Lift went in search of software to automate its complex planning processes and make the execution and follow-up run more efficiently. This was a challenge that the Movetex team gladly accepted.
Approach
Movetex develops planning software and adapts it to the customer's planning processes, not the other way around. Given the complexity of De Lift's needs, a thorough project approach was the only way to go.
After an initial start-up meeting, the Movetex consultants conducted an extensive analysis of De Lift's planning processes. This analysis provided the necessary insights and requirements for the Movetex software. Data were collected, parameters set, algorithms configured, and extra screens developed. For automatic transfer of the necessary data, the consultants made a link via APIs with their AFAS ERP software.
Project leaders received training, and in a first phase the software was used alongside the old planning method. The dispatchers and technicians received training before the final "go live." Regular follow-up meetings take place where troubleshooting and feedback are converted into adjustments or extra screens and functionalities.
Solution
Movetex planning software is the beating heart of planning for De Lift and consists of three major components:
Planning
A plan is automatically made each day for the various regions using the data from the ERP software. Project leaders and dispatchers remain in charge and can add and assign assignments manually. There are three types of assignments:
Movetex planning software uses automated scheduling to ensure that timely maintenance is carried out for each elevator by the right person. In addition, mileage is minimized in the process.
Repairs are scheduled optimally within a specified date range.
Urgent interventions can be requested and will be automatically or manually assigned to the most appropriate and nearest technician. This assignment is immediately visible in the technician's mobile app.
Mobile workforce app
With the mobile app, technicians at De Lift have all the tools they need to efficiently complete assignments:
The technician receives a digital route sheet and can easily navigate from one job to the next. Important information such as location, visit history, inspection reports, manuals, and photos are easily accessible.
The technician can enter comments and materials used, add photos, have the customer digitally sign, and keep time records.
If it is no longer possible to carry out the planned maintenance or repair because of unforeseen circumstances, the technician can request a new assignment from within the app. This will automatically add a maintenance job from the nearest elevator to the assignments in the app.
Live tracking and follow-up
The project managers and dispatchers can continuously see where everyone is located and can maintain oversight. In case of urgent interventions, they can intervene in real time. Moreover, if necessary, they can assign reinforcements for an unexpectedly difficult assignment
After a technician has completed an assignment, a report is automatically generated by the software and emailed to the customer.
Results
Spreadsheets are a thing of the past. Thanks to smart algorithms, technicians not only meet all planning conditions but also minimize the number of miles they travel. This saves De Lift both planning time and transport costs.
Through the app, technicians have all the information and handy tools in their pockets. Everything happens digitally and data is immediately forwarded to the planning software. This way, dispatchers are always up to date on what is happening in the field and can intervene immediately if necessary.
But the biggest advantage is that the fast-growing company can continue to work in a customer-oriented way. Thanks to the planning software, the terms and conditions of the contracts are automatically met, and repairs can be scheduled immediately. This real-time scheduling makes communicating with customers easy and clear. In this way, De Lift can continue to focus on what it does best: provide top service to customers every day, at a competitive price.

Written by
Jan Teurrekens
Popular cases